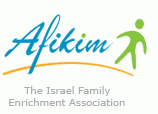 At present, 330,000 Israeli children are classified as "at-risk" and live in a daily state of crisis. The parental functioning in these families is generally deficient due to a difficult economic situation, unemployment, emotional or physical abuse and more. This lack of family support, in addition to living in poverty, diminishes the chances of children to escape the cycle of distress that envelops them. In 2007, the AFIKIM Family Enrichment Association, rose to the challenge and developed a unique intervention program focusing on children and their families. Our aim is to provide children at-risk with their immediate needs while integrating them into a long-term program geared towards excellence in education, values and character. This is achieved through learning enrichment and character development while simultaneously integrating their parents into the AFIKIM Center for Parental Empowerment. Working with the family as a unit strengthens the family's stability and is the secret to advancing the child. The AFIKIM Association presently operates a network of 10 after-school centers in Jerusalem, Kiryat Malachi, Kiryat Shmona and Lod, serving over 400 families. The unique program is built on the conviction that supportive frameworks both at home and at school assist children emotionally and academically, allowing them to grow and advance. AFIKIM After-School Educational Centers provide a year-round framework (incl. school vacations). Children participate from 3rd grade through 12th grade when they are better equipped for high school and their future. Daily, they receive lunch and supper, study Hebrew, math, English, life skills and values. Each child also participates in extra-curricular activities, as well as computer courses. Most significantly, the AFIKIM staff is in regular contact with the children's teachers to individualize the program as needed. To ensure a secure future for each child, their parents are integrated into the AFIKIM Parental Empowerment Centers where they develop skills for managing their homes and families. Activities are moderated by a professional facilitator. This program helps the beleaguered parents cope with the challenging demands of parenting and of life. AFIKIM's integrated program is unique in a variety of ways:
In-depth work: Children are members of the center for six consecutive years.
Parental involvement: Parents participate in the Center for Parental Empowerment.
Academic excellence: The professional teachers follow Ministry of Education curriculum to advance required learning material.
Focus on values and good character: The center promotes ethical behavior and Jewish values in a daily values education program.
Continuous programming: Activities take place throughout the year including holidays and school vacations.
Extracurricular activities: The children are integrated into specialized workshops.
Computers program: The children (and parents) participate in computer courses
Cooperation with schools: AFIKIM staff works closely with the children's teachers to monitor and advance the child's progress.
To learn more about The Afikim Family Enrichment Association, visit their official website.