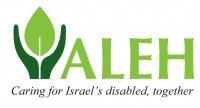 ALEH is Israel's largest network of residential facilities for children with severe physical and cognitive disabilities, providing 650 children from around Israel with high-level medical and rehabilitative care in four residential facilities. ALEH is their home and their family – 24 hours a day, 365 days a year. For many children with special needs in Israel, the concept of achieving one's potential has been absent for their entire lives. ALEH's goal is to enable each child, regardless of the severity of the disability, to realize his or her potential and live a quality life on par with the rest of society. To fulfill this goal, ALEH has several objectives:
Provide advanced medical care
Minimize medical complications and hospitalizations
Enable each child to communicate with his or her surroundings
Strengthen muscle control and motor ability
Improve cognitive levels
Enhance sensory stimulation
Provide emotional therapeutic support
Ensure that each child receives the education they are due
Provide normative experiences
Bring fun, love and laughter into each child's life
ALEH provides these medical, paramedical, nursing, rehabilitation and educational services to some of the most amazing children in Israel, operating the following:
Four residential dormitories
Four special education schools for various age groups
Centers for young children
Mobile community clinics
Centers combining employment and development of life skills
Camps and clubs, adapted to the pupils' needs and limitations
Activities with both disabled and regular groups.
To learn more about ALEH, visit their official website.