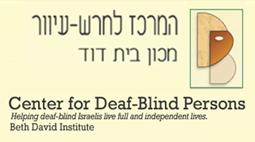 The Center for Deaf-Blind Persons is Israel's first and only center serving the estimated 1,200 Israelis who have the dual disability of deaf-blindness.  Deaf-blind individuals require extensive services tailored to their special needs, as they are able to benefit only partially from services offered by organizations just for the deaf or blind. The Center for Deaf-Blind Persons was established in 1989 by the Beth David Institute with the goal of enabling deaf-blind individuals to live their lives to the fullest. The Center provides:
Comprehensive social, educational and rehabilitation services
Specially-designed leisure and social programming
Advocacy for the rights of deaf-blind Israelis
Liaison assistance for deaf-blind people with social services and government agencies
The majority of the Israeli deaf-blind population has Usher Syndrome, a genetic condition characterized by hearing loss from birth and progressive loss of vision through life.  The Center for Deaf-Blind Persons helps these individuals use the "window of opportunity" while they still retain some vision to learn skills for coping with their impending blindness. Located in the Helen Keller House in the Yad Eliyahu neighborhood of Tel Aviv, the Center serves deaf-blind individuals from across Israel.

To learn more about the Center for Deaf-Blind Persons, visit their official website.