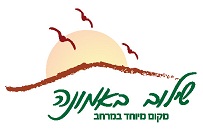 The Sadna is an integrative project in Gush Etzion which helps Special Education children between the ages of 2-20 who fall between the cracks and find no solution for their needs in the Special Educational system.  Among them are students who with the aid of a therapeutic program will be able to mainstreamed into other frameworks.  Others will need the therapeutic program of the Sadna throughout their lives. The guiding principle of the Sadna is that one is not defined by his needs but rather by his ability to give.  This principle is applied daily in learning, social activities and work.  Each child learns to give and not only to receive.  This leads to a tremendous change in their behavior.  They become independent and self-confident.  They reach goals and are very happy. The Sadna has a wonderful devoted staff who have undergone unique training.  The Sadna also has a vocational program which prepares the pupils for independent life and communal living. This program is unlike any other in Israel and students come from far away in order to participate.  Many families have moved from all over Israel so that their children could attend the Sadna. The Sadna has several programs:
A Kindergarten- 20 normative children learn together with children with special needs. Several special needs young women are employed in the kindergarten.
A special education school consisting of 8 classes for children with varying disabilities
Aftercare program for all pupils in the school
An agricultural farming program was established in order to provide vocational training and employment opportunities for people with special needs
Assisted living in communities in Gush Etzion:

3 apartments for young men with special needs in Gvaot
and 1 apartment for women with special needs in Bat Ayin
"Merchav Meshalev", a unique project: Once a week, students from other schools are invited to the Sadna for a day of joint volunteering and activities.
Riding for Sadna will raise funds for the development of a comprehensive vocational training and employment program for the young adults who are part of Shiluv B'Emunah. The employment program will include jobs of varying skill levels, so that each participant can make a contribution that reflects his or her own capabilities. Help  Sadna establish a place where the graduates of the schools will be able to work, meet and host visitors. This will improve their quality of life. To learn more about SADNA, visit their official website.